(in partnership with the Edmund Rice Foundation)
Zimele's Origins
Zimele was initiated in 2008 by Tom Purcell, who had just attended a two week conference in Johannesburg studying the apartheid story, focusing on reconciliation and forgiveness. He was inspired by the Steve Biko story. Biko was a brilliant young student activist who died in a police van after his arrest and torture by Police. He had set up an organisation he named Zimele which is Zulu for "Stand on your own feet". Its aim was to raise black consciousness and to practically assist the underprivileged and those oppressed by the Apartheid regime.
The well-known film, 'Cry Freedom' is based on the Biko story. Tom decided to use Biko's catch-cry and set up an organisation which would carry on his heroic work. So Zimele was formed to enable all of us to have a greater understanding of how our Edmund Rice Network is responding to the needs of our African friends and the opportunity to be more involved in this life-changing experience.
Further information can be found on the Zimele website www.zimele.org
What does Zimele Raises Funds For?
Zimele works in partnership with the Edmund Rice Foundation to build relationships and lives in solidarity with our underprivileged brothers and sisters in Africa. We strive to enhance the dignity of individuals and communities through the empowerment of education and assist in the provision of basic health needs to our project communities; this will awaken within each of us the joy of making a difference to the lives of our African brothers and sisters.
The main sources of fundraising were the Zimele Dinner and the Zimele Walkathon. We acknowledge the tremendous support received from Stephen Russell, school associations and sports groups, and all volunteers who have given their time and talents to ensure Zimele continues to help the most marginalised to stand on their own two feet.



Projects supported

Eldoret, Kenya - Education for Life centre
AIDS education and medical support. Zimele hopes to build a new facility with meeting rooms, a medical centre, a micro-finance facility and in the long term a vocational trade school. Furthermore Zimele has initiated a child education sponsorship program for the children of Eldoret.
Star Support Group, South Sudan
Zimele is continuing to provide support for the Star Support project, which is helping people with HIV/AIDS live and die with dignity. The project is under the direction of the Christian Brothers and has a three pronged approach of home-based care, workshops on living positively with HIV/AIDS, and income-generating activity for nutritional support.
Education for Life Program/AIDS Education and Prevention Ministry
The Education for Life program aims at promoting attitude change in order to reduce HIV and AIDS stigma and other addictive behavior among our beneficiaries and other vulnerable groups such as youth, street children and prisoners . We have integrated services, with priority in administering to those with HIV and AIDS and guardians to the orphaned children within the slum areas of Eldoret town in the north rift region in Kenya. This region is cosmopolitan and has high poverty levels partly due to the continued post election violence in the area.
The funds from Zimele will have a great impact in empowering the clients with skills for economic empowerment such as tailoring and bead making, offer ongoing psychosocial support for those with HIV including nutrition for the infected malnourished children. The funds will also be used to support school needs including uniforms, text books and school fees for the 650 orphans and vulnerable children.
The funds will enhance group counselling and attitude change workshops for all our target groups and help in improving services so as to create a conducive environment for the clients meetings.The end result will be improved livelihood and positive living among the beneficiaries and stable future families.
We thank the organizers for the partnership as we join hands in this noble mission of reaching God's people.
Angeline Obutu
Program coordinator

Events
There are three main Zimele events:
Dawn to Dusk: 12-Hour Challenge: Saturday 10 September 2022
CONTACT US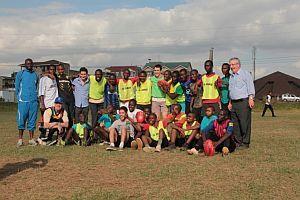 For any queries about Zimele or if you want to become further involved, please visit their website or their Facebook page.